By SFMTA online: https://www.sfmta.com/projects/covid-19-developments-response
COVID-19 Developments & Response
We are closely monitoring what is happening with the novel coronavirus (COVID-19). Please continue to check this page for the latest updates…
Muni Service: Please do not ride Muni if you are feeling ill, except as necessary to seek medical care after consulting with your medical provider. We're also asking customers to only take Muni for essential trips that can't be made by walking, biking or other modes of transportation.
Backdoor boarding is now required on all vehicles, except for passengers in wheelchairs or with other accessibility needs. If you need assistance, please request to board from the front door and an operator will help you access the ramp or the kneeler.
Muni bus service is currently running a reduced schedule:
Get details on which Muni routes are currently affected
Due to changing ridership, and in order to prioritize resources during the shelter-in-place order, the following additional service changes will be implemented:
Current Muni Service Modifications
Monday, April 6
Customers should prepare for delays across the Muni system both Monday and Tuesday. We expect to be below necessary staffing levels to provide adequate service. This gap will cause missed runs and delays that may not be accurately reflected in digital predictions. Please do not make trips unless they are essential. If you need to make an essential trip, plan to use other options or allow extra time when riding Muni.
Beginning Tuesday, April 7
Service will be temporarily discontinued on seven routes that are experiencing low ridership or have nearby lines that provide similar service and connections.
Routes to be discontinued include: 2 Clement, 3 Jackson, 5 Fulton, 7 Haight, 10 Townsend, 21 Hayes and 31 Balboa.
Beginning Wednesday, April 8
Service will be further reduced; remaining service will focus on our 17 most-used lines. This core network will provide service within one mile of all San Franciscans. This approach allows Muni to continue to serve San Francisco's medical facilities and focuses on equity to ensure service for our customers most reliant on transit. The frequency of buses will vary by line so that lines experiencing some crowding will have more frequent service than others.
The 17 core routes that will remain in service, with some modifications include: N Judah Bus, L Taraval Bus, T Third Bus, 1 California, 8 Bayshore, 9 San Bruno, 14 Mission, 14R Mission Rapid, 19 Polk, 22 Fillmore, 24 Divisadero, 25 Treasure Island, 29 Sunset, 38 Geary, 38R Geary Rapid, 44 O'Shaughnessy, 49 Van Ness/Mission
More information on these service changes is on our blog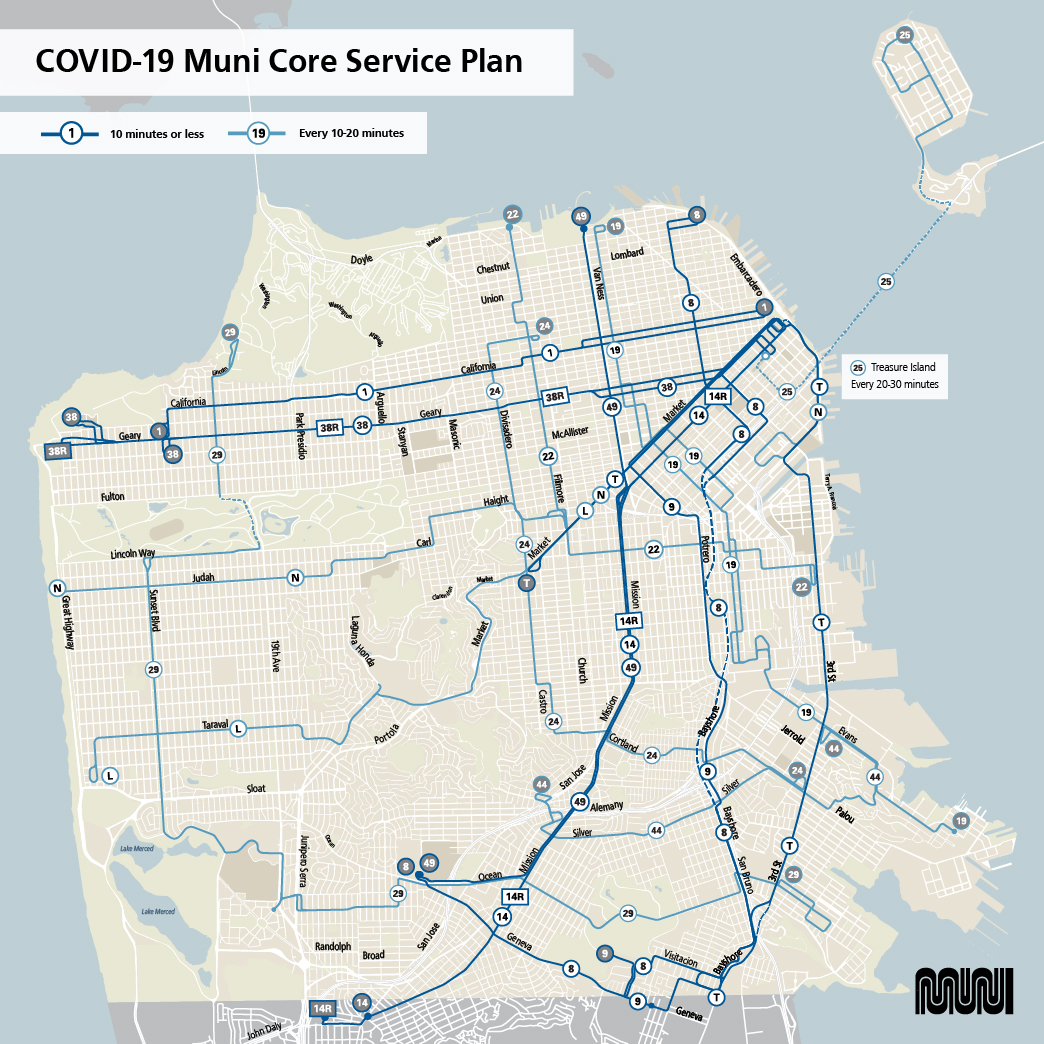 Map of service starting Wednesday, April 8
Paratransit
Paratransit service continues to operate as normal so that customers can travel for essential needs as defined by the Public Health Order. We ask riders to cancel any non-essential trips. If you are a paratransit customer and you need to cancel a previously scheduled SF Access trip, please call 415.285.6945 as soon as possible.
Effective Wednesday, March 18, the SF Paratransit Office will operate with limited capacity during regular business hours (Monday – Friday, 9:00 a.m. – 4:45 p.m.). Teller window hours are subject to change.
During this time, reduced staffing will be available to accept cash payments for monthly taxi debit card allotments only.
Parking Enforcement
Effective on Tuesday, March 17 for the duration of the shelter-in-place order, the SFMTA will not ticket for mechanical street cleaning. Street cleaning tickets issued on March 17 will be waived. However, it is crucial that we still clean our streets to prevent trash buildup and local flooding. Please still move your car for street cleaning if you can.
Enforcement will also be temporarily suspended for the following:
72-hour parking limit and towing
All time limit parking (e.g., 1-hour, 2-hour, etc.)
Residential Permit Parking (RPP) permits
Commuter shuttles
Peak-hour towaway zones
Street cleaning
The SFMTA will prioritize enforcing parking rules that impact health and safety:
Fire hydrant zones
Red and yellow zones; and "No Stopping" or "No Parking" zones
White passenger loading zones, except in front of schools while they are out of session
Blocked driveways, double parking and parking on sidewalks
Parking in bike or transit lanes
Parking Meters: Given the significant shifts in parking demand, the city is implementing a temporary rate change for all parking meters citywide beginning on March 18 through the period of the Public Health Order. Time limits are also being waived on meters citywide, and is expected to be fully implemented by March 29.
By Tuesday, March 24, all meters will be reduced to their base rates through April 7:
$0.50/hour for vehicle parking
$0.10/hour for motorcycle parking
We are maintaining a minimal fee to ensure there continues to be turnover around essential services, such as grocery stores, medical facilities and banks.
Parking Garages
To minimize risk to the public and our garage staff, the SFMTA has closed some city-owned parking garages and limited others to monthly pass-holders only. We are prioritizing maintaining access to garages that are near essential services like medical facilities or markets.
The following garages will be closed to the public until further notice:
Golden Gateway Garage (call 415-956-8003 for assistance)
Ellis-O'Farrell Garage (call 415-765-9069 for assistance)
Moscone Center Garage (call 415-765-9069 for assistance)
These garages will be open only to monthly pass holders:
Japan Center Annex Garage (call 415-956-8003 for assistance)
Performing Arts Garage (call 415-956-8003 for assistance)
Kezar Lot (call 415-956-8003 for assistance)
16th and Hoff Garage (call 415-956-8003 for assistance)
Lombard Garage (call 415-956-8003 for assistance)
7th and Harrison Lot (call 415-956-8003 for assistance)
Polk-Bush Garage – monthy pass holders with 24/7 access only (call 415-956-8003 for assistance)
The following garages are currently open to the public:
Zuckerberg General Hospital Garage
St. Mary's Square Garage
5th and Mission Garage
Sutter and Stockton Garage
Union Square Garage
Civic Center Garage
North Beach Garage
Vallejo Street Garage
Pierce Garage
Portsmouth Square Garage
Japan Center Garage
Mission-Bartlett Garage
Taxis and Ramp Taxis
Taxi services continue to operate as an essential service. ​Individual taxi companies are following best practices to minimize the risks of transmission. To request a taxi you can continue to hail them in the street or at the nearest taxi stand. You can also search the taxi directory or the wheelchair accessible ramp taxi directory for links to apps and contact information. During this time, the Emergency Ride Home program provided by official taxis will continue for individuals who work in San Francisco and are fulfilling essential job functions.
Taxi Drivers: Please note the Taxi Services Window is closed until further notice. Please see our website for more information or call 415.701.4400
Bikeshare and Scooter Share
We are deferring to operator discretion as to whether they continue to operate, and ​sharing best practices with them to minimize the risk of transmission of the virus. Please visit the websites and apps of the individual companies for more information on availability during the COVID-19 shelter-in-place.
Fines and Fees
Until further notice the SFMTA will take the following the actions:
Suspend new late penalties on citations
Extend deadlines for submitting citation protests
Extend citation/boot/tow hearings deadlines – you may request 48-hour tow hearing at hearingsgeneral@sfmta.com or call 415.503.8453
Extend deadlines for active community service programs
Extend deadlines for completing active payment plans
No longer forward additional delinquent citations to the Department of Motor Vehicles or Special Collections
Fares
No Lifeline passes will be sold for the months of April and May. Lifeline IDs, regardless of the monthly sticker displayed, are valid as proof of payment.
Customer Service Center
Effective Thursday, March 19, 2020, the Customer Service Center at 11 South Van Ness Avenue will be temporarily closed.